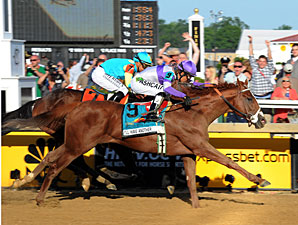 It has taken some time, but after watching the Preakness, I feel like it is time to do what everyone
else is doing about now, jump on O'Neill's band wagon and root for I'll Have Another in the Belmont stakes. The beautiful chestnut colt has shown that he is versatile, running down his main rival, Bodemeister, in both the Derby and Preakness. I'll Have Another is more capable than Big Brown, the last horse who was up for a triple crown, for several reasons. First of all, Another defeated the best three year old crop we have seen in awhile. He won easily in both races, and he has been sound throughout his
career. The rivalry
between Bodemeister and I'll Have Another reminded me, and several others, of Affirmed and Alydar. Unfortunately, that rivalry is now over as Bodemeister will not run in the Belmont. I have a few things to say about Bodemeister. He is a brilliant horse. A horse who would have been up for the Triple Crown if I'll Have Another had not raced in the Derby. However, if it had been Bodemeister at the wire in the first two jewels of the Crown, we would have another year without a Triple Crown champion. Bodemeister is a quick horse with good stamina, but the Belmont is the test of champions. With the fractions set in the Derby and the fact that well rested horses will be running, Bodemeister would not have enough in him to be victorious.
I'll Have Another will have the same challenge. Dullahan was a fast closing third in the Derby, and has been resting since that exciting race. Union Rags will also enter the Belmont well rested and ready to deny Another the Triple Crown. Yet, as I said earlier, I'll Have Another is a versatile runner. He hung back in the Derby, stalking the blistering pace before making his move. In the Preakness, he chased Bodemeister and ran past him to the wire. If I'll Have Another breaks well, he could indeed bring rain to the drought that is the Triple Crown.
Other than tiredness, well rested horses, and the mile and a half that face I'll Have Another,a few more things stand in his way. Thoroughbreds these days are not conditioned to race three times in five weeks. They do not have the stamina or recovery required to run grueling races so close together. I'll Have Another is definitely an amazing horse and he faces a daunting task, but I'll root for him because I want him to win. A Triple Crown winner will revitalize horse racing in the public eye, which is a good thing. It won't fix the problems that horse racing has or faces, but it will bring hope to a sport that desperately needs it, a hope that is lives in a horse named I'll Have Another, and hopefully he will. Even if he falls short, he will still be remembered because he gave us another chance.
Also, you may want to watch this year's Derby and Preakness again before the Belmont: